This grassroots movement reflects what seems to be a growing trend in Russian society: an interest and enthusiasm for social work, arguably unprecedented for the country. Russia historically has lacked strong volunteer-based charity structures, but there seems to be a growing consciousness about citizens in need and more organized attempts to address social ill
"Shelves of kindness" are rapidly appearing in more stores in the Rostov area in Russia. People in need or the homeless can take whatever is on them, such as sugar, salt, bread, pasta, grains, flour, and vegetable oil, absolutely for free, Russian news reports
So far, 37 stores have joined this unusual movement.
The 'shelves of kindness' are filled up by the store customers themselves, by the ones for whom buying an extra loaf of bread or an extra package of tea to help out a lonely 'babushka' (grandmother) is not really that difficult.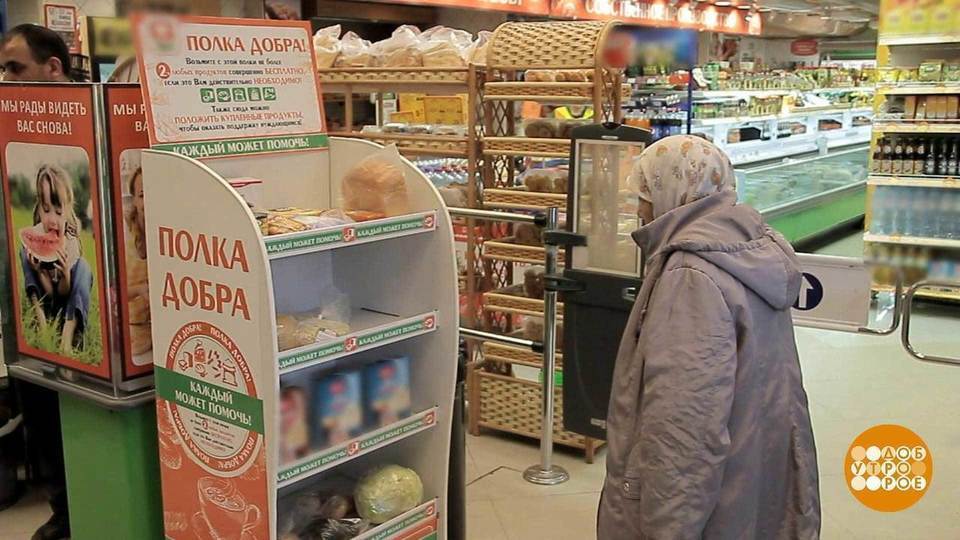 The cashiers and volunteers of the initiative keep an eye on the shelves so that the products only go to those who are truly in need of them.
"Of course, we won't allow a person who just bought beer and cigarettes just take the bread and butter," said a volunteer of a charity movement called "Time for Kindness," Svetlana Vasilchenko.
"But we're lucky: the majority of people are conscientious. A few of them, having found out about the movement, start going to the specific store in which they can help someone."
People of various ages and professions participate in the movement: students, teachers, doctors, janitors.
These 'free' shelves have appeared not only in the Rostov region but also in Dagestan, Ingushetia and Astrakhan regions. The movement has gained popularity through social media and the public has eagerly supported the stores in this action
This grassroots movement reflects what seems to be a growing trend in Russian society: an interest and enthusiasm for social work, arguably unprecedented for the country.
Russia historically has lacked strong volunteer-based charity structures, but there seems to be a growing consciousness about citizens in need and more organized attempts to address social ills.
And while this particular 'free food' endeavor is organized by secular groups, it is symptomatic of the national push for more social work on a volunteer basis, a movement that has largely been inspired by and spearheaded by the Russian Orthodox Church over the past few years.
Meanwhile, some stores are putting up the following sign: "People who can't buy bread can take it for free."
---
This website is how the Gleason family and the Silva family earn a living. Maintaining this website is a full time job, and this is how they feed their families. Both families now live in Russia, and they appreciate your support.
To keep the Russian Faith website running, a recurring donation of even $5 or $10 per month would be a huge blessing.
---