According to the plan of the official program for construction (called 'Program 200), 138 more churches will be built in Moscow in the coming years.
The curator of the church building program in Moscow, the "Program for the Construction of Orthodox Churches of Moscow," also known as the "200 Program" (here's our recent article about it)  State Duma Deputy Vladimir Resin, has announced that 62 church complexes were built in the capital over the past eight years, reports Interfax-Religion.
"In all, over the past eight years, 62 church complexes have been erected in Moscow (45 as part of the program and 17 outside of it)," Resin said on Thursday at the XXVI International Nativity Readings, noting that 38 of the churches are already in use.
24 churches were opened in Moscow in 2017 alone.
Another 31 are currently being built as part of the program and 4 outside of the program, and another 31 are in the design phase, Resin also reported.
The main objective of the program is to build enough new churches throughout the capital so that there is always one within walking distance in the residential areas. The program has been actively underway since 2011, with a plan of building 200 churches.
The program runs entirely on the donations of citizens and organizations. A foundation established for collecting funds is co-chaired by Moscow Mayor Sergei Sobyanin and His Holiness Patriarch Kirill of Moscow and All Russia.
According to the city planner, the construction work was completed on 12 complexes in mid-January that will be ready for active use by next year.
That the economic crisis has not shaken the sustainable development of the program shows, in Resin's view, the people's great interest in seeing new churches opened. According to the program's updated plans, churches are being built to accommodate up to 500 worshipers.
Metropolitan Hilarion (Alfeyev) also recently reported that more than 30,000 churches have been built over the past 30 years throughout the entire canonical territory of the Russian Orthodox Church, bringing the total to about 40,000 churches.
The program's largest church, The Church of the Meeting of the Lord, able to accommodate 1,000 worshipers was recently opened, as was Moscow's first church named in honor of the Tsar Nicholas II and his holy family.
Here are a few other new churches: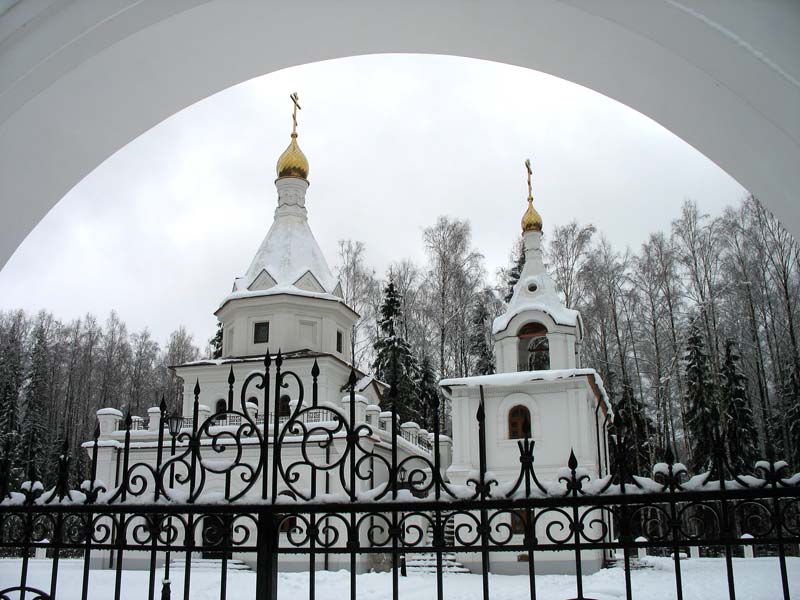 ---
This website is how the Gleason family and the Silva family earn a living. Maintaining this website is a full time job, and this is how they feed their families. Both families now live in Russia, and they appreciate your support.
To keep the Russian Faith website running, a recurring donation of even $5 or $10 per month would be a huge blessing.
---