An artist who knew what too many have forgotten: that the past has many secrets to teach our raging, rushing generation
Andrey Ryabushin was born in 1861 to a family of village iconographers, another boy in a long line of men brought up to express their religion's teachings through vivid, though traditional, forms and colours.
From early childhood, he helped his father and oldest brother restore and renew village churches in the area. It was a quiet task, as the iconographer's job is not only artistic, but spiritual.
At age 14, Andrey lost his father. In the same year, a young artist visiting their village noticed the talented lad and whisked him away to study art in Moscow.
In 1882, Andrey moved from Moscow to St. Petersburg to enter the Academy of Arts, the most illustrious art school in the country. Throughout the course of his study there, his paintings received high marks and all-round praise.  
Everyone expected him to be granted the golden medal upon graduating in 1890, which would be accompanied by a scholarship that would enable him to travel abroad for three years. Ryabushkin lined everything up for success, receiving full approval from the Academy council for his preliminary sketches of the final project. 
He had opted to paint the moment when Christ's disciples and mother remove Him off the cross (It was to be called "Taking Christ off the Cross"). However, as he feverishly painted, destroying all preliminary sketches and intermediate drafts in the process, the moment he was depicting, rewinded back to the crux of the terrible night, to the Crucifixion. 
When he presented a massive, intense canvas called "The Lamentation over Christ, Golgotha," the teachers and judges were impressed. But because the painting did not align with his original, approved plan, Ryabushkin did not receive the gold medal.
Disappointed, he decided to tear apart the painting and use the canvas for other paintings, as was his custom. Famous art collector Tretyakov managed to in halt him by offering to buy it for a handsome price. 
The Crucifixion would become the most dramatic scene Ryabushkin would ever paint. A few days later, the president of the art academy offered Ryabushkin money out of his own personal funds to replace the scholarship. Thus, the artist left the city to travel; though not, as most of his classmates, to Europe. 
An Intimate Knowledge of Times Past
Ryabushkin used his two years to roam through Russian villages and towns, often travelling by rivers and lakes. He visited the oldest Russian cities: Novgorod,  Moscow, the Moscow Region, Kiev, Tula, Oryol, Ryazan, Uglich, Yaroslavl, Rostov, Kostroma, Nizhny Novgorod.
In every town, he sketched local churches, copied fragments of ancient frescoes, and traced the old patterns and ornaments characteristic of Russian folk art. He visited obscure town museums, examining carefully everything he could find from ancient Russia: fabrics, household items, costumes, weapons. He kept notes of snippets of folk songs and religious songs.
Andrey's fascination with ancient and medieval Russia had begun in university. Under the guidance of Feodor Solntsev (famous archaelogist, historian and artist), he studied ancient Russian calligraphy and iconography, even learning to write in ancient Russian script. 
He also read countless history books, studied Russian archaeology, Russian chronicles and folk tales. He also regularly submitted illustrations for journal articles about 17th century Russia and the contemporary reality of the Russian village. In the future, Ryabushkin's historical expertise would shine through the meticulous accuracy of the details in his paintings. 
Searching for an Artistic Style
After his journey ended, Ryabushkin settled down not far from St. Petersburg in his friend's estate called Privolnoe, an unofficial hub for those interested in folkloric art. 
His first major canvases gravitated towards the style of the "The Wanderers" art group, a socially-minded art movement that dominated the art scene at the time.
Though his first paintings met the art groups requirements and were featured in the the Wanderer's exhibits, inevitably raised heated debates among the members of the Wanderers.
In his next painting "Session of Tsar Mikhail Feodorvich with his Boyars in his State Chamber" (1893), Ryabushkin found a language of his own, one of saturated colours and beautiful ornamental details and bright light. The dark lighting, typical of Peredvizhnik artworks, would never again appear on Ryabushkin's paintings. 
The Peredvizhniks claimed that nothing happens on Ryabushkin's canvass; clashes and drama, the horror of social cankers, the pressing problems of progress are nowhere to be seen. 
And they are right. Instead, the colours and texture of the rich fabrics, the stove tiles and the jewels on the throne dance and glow, delighting the onlooker and the boyars sit calmly, contemplating, not debating, matters of state.
A New Genre of Historical Painting
Ryabushkin developed a new type of genre picture, characterised by the absence of a plot conflict. His paintings, even his portraits, do not create a detailed psychological narrative about the actions of heroes.
His paintings typically depict Russia in the 17th century, before it was introduced into social and technological modernity by Peter the Great. It is often described as the most "decorative" and "ritualistic" period of Russia.
The colour palate he uses in his paintings, ringing, clear, bright paints with few intermediate tones, borrows stylistically from older art forms: the Russian icon, fresco and folk art.
It also mirrors the aesthetic taste of people of the pre-Petrine era, with their definite preference for festive colours (golds, purples, greens, and especially reds) in art, fabrics, and decorations.
The meanings of Ryabushkin's historical paintings are expressed not through interesting individuals and catastrophes, but through the eloquent details of the setting (which are meticulously historically accurate) and the subtle features of the behaviour and appearance of people.
A 17th-century Moscow Street on a Holiday.

1895
For example, in the "Portrait of a Merchant's Family in the 17th Century" Ryabushkin recreates a portrait genre popular in 17th century, called "parsuna" which functioned as the transitional form between icons (religious painting) and secular, realistic art.
Although it was drawn from nature, the parsuna did not actually aim to introduce the viewer to the individuals, but rather to the type of family or person.
In this case, Ryabushkin presents a well-to-do, stable, solemn patriarchal family ; a merchant surrounded by his wholesome, orderly household. The clothes, the facial expressions and body positions suggest their status, their familial structure, roles and their preoccupations.
In his paintings, Ryabushkin presents people and situations, patterns of behaviour, rituals, beliefs and emotions that remained constant and predictable amid the disorder of life. The meticulous details in the painting create the mood of solemnity and ritual so typical for the time.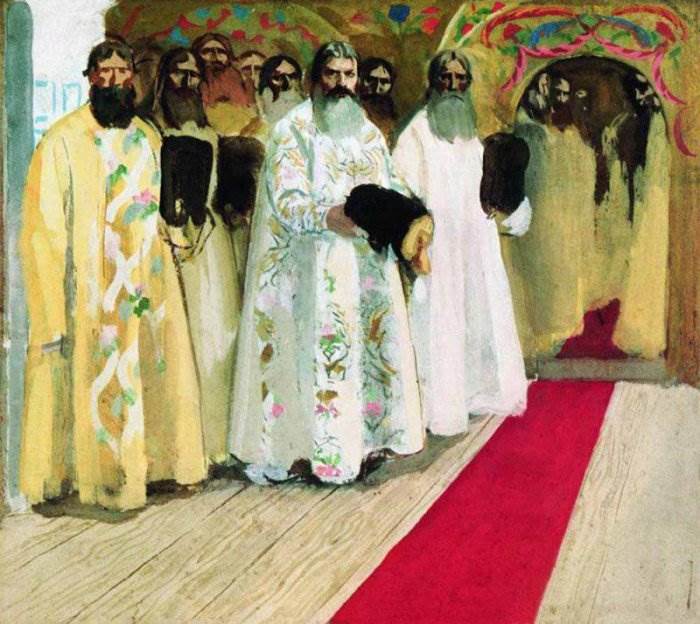 This reflects what historian and author Eugene Vodolazkin describes about medieval Russia
"Déjà vu was a merit rather than a sin. It was repetition of the indisputable."
Ryabushkin thus recreates an art formed by a mentality which, rather than rush after endless innovation, valued the truths that remained consistent, stood up to the test of time and idiosyncrasy.
A Different Understanding of the Present
Ryabushkin also created a series of work dedicated to the village life of his time (late 19th and early 20th century), both magazine illustrations and paintings. This topic interested many artists at the time, including the Peredvizhniki. 
Yet Ryabushkin's depictions of village life and people focus less on the status of peasants as an oppressed class of society. Instead, a sense of gradual moral and social decay pervades the images.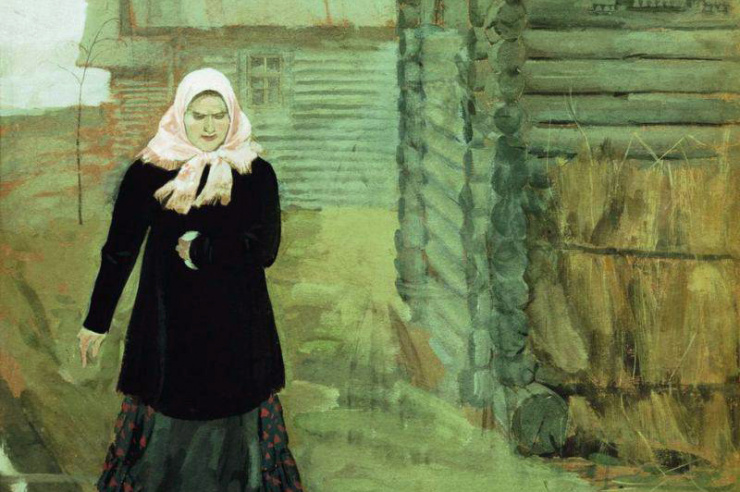 His village people are tortured not so much by their illiteracy or poverty, as by the fragmentation of a traditional, holistic way of life and belief; they are fragmented by new materialistic concerns, by envy, drunkenness, and other petty passions. Thus, in the watercolour painting "Tea Party" a family seems to have become irrevocably torn apart by the competitiveness, envy, money interests and egotism of its members.
A Life
By the early 1900s, Ryabushkin had achieved fame and the respect of many of the most popular artists of the day. Many of his paintings debuted abroad at exhibits of other art schools, though he never committed to any group: his style, his material, and his focus, differed from his contemporaries. 
Aside from his paintings, he continued to submit illustrations for books and magazines. He also continued to work on frescoes and mosaics in churches. He participated in designing the mosaics for the Church of the Savior on Spilled Blood, built on the site where political nihilists fatally wounded Emperor Alexander II in March 1881.
 In 1903, Andrey was diagnosed with tuberculosis. After an unsuccessful treatment in Switzerland, he returned to Russia and died in April 1904, at age 43, in the estate of his friend, the artist Vasily Belyaev, in the Novgorod region.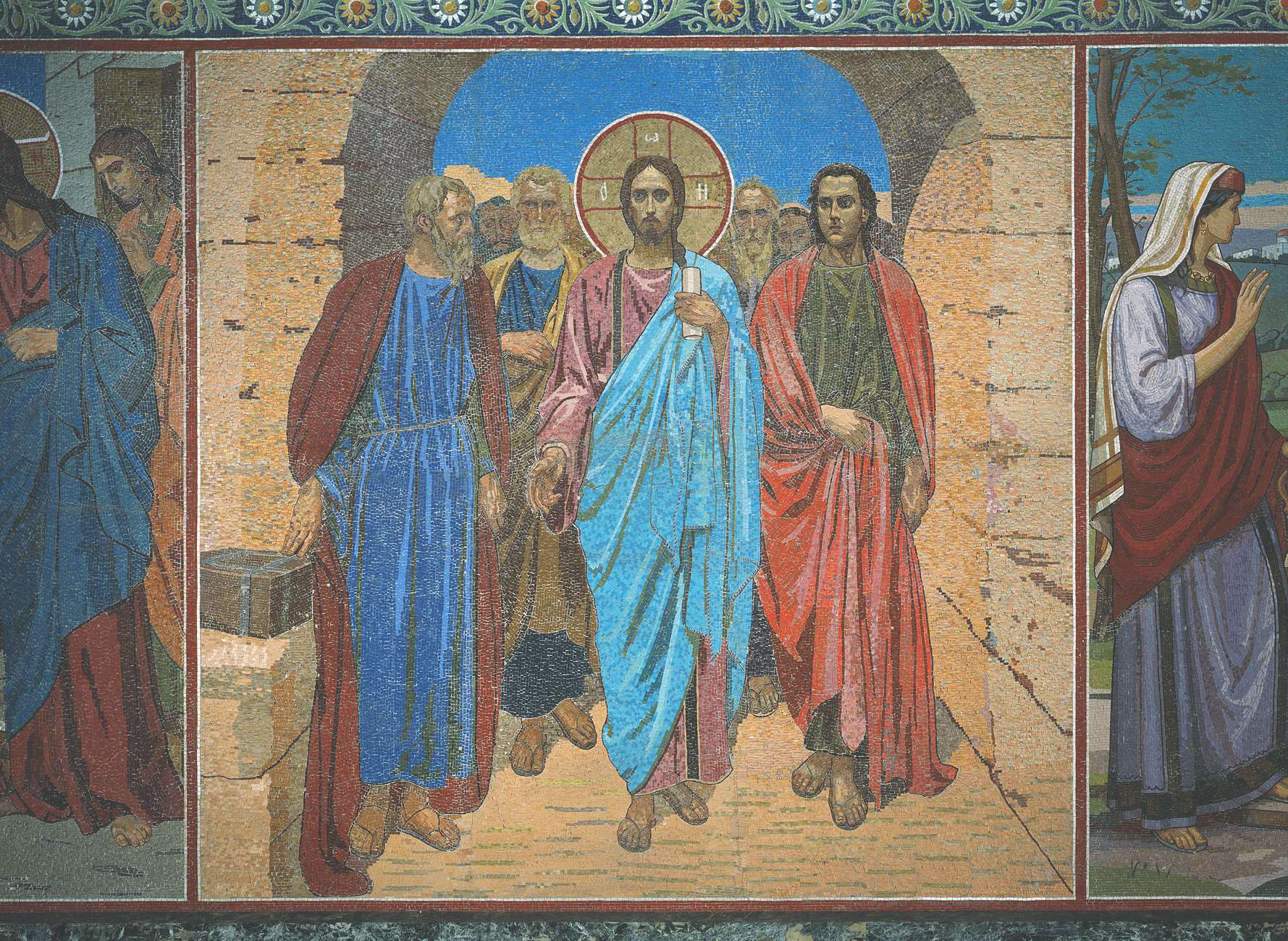 His contemporary artist and friend, M. V. Nesterov, said that it always seemed as though Ryabushkin was "carrying some kind of secret." Perhaps his secret, the secret he was trying to relay to his world through his works, was the live vision of a different, less fragmented time, a time of more vibrant colours and quieter rhythms.
(For more articles like these, subscribe to the author's blog)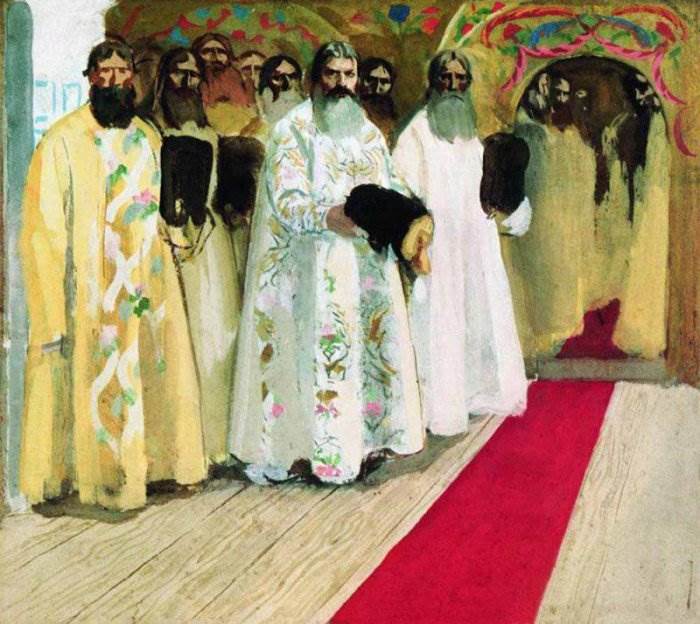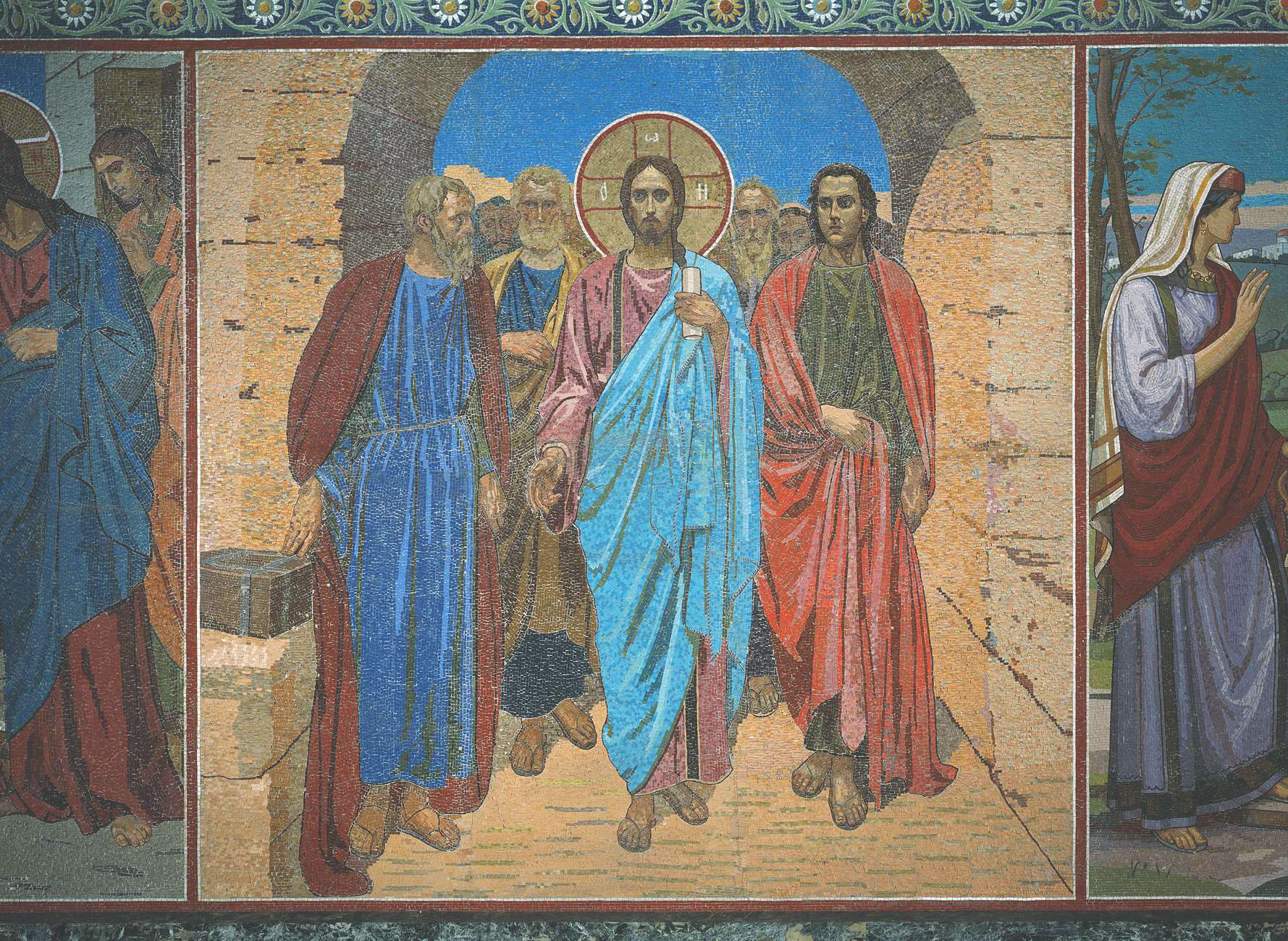 Resources
---
This website is how the Gleason family and the Silva family earn a living. Maintaining this website is a full time job, and this is how they feed their families. Both families now live in Russia, and they appreciate your support.
To keep the Russian Faith website running, a recurring donation of even $5 or $10 per month would be a huge blessing.
---