Spoiling children in such families is unacceptable; they are acclimated to prayer and labor from an early age.
They look at boys and girls as men and women from birth, weaving gender-exclusive elements into their upbringing. 
The family is perceived as one whole, where the husband is the head, and the wife and children a part of the body, which must be taken care of
Editor's Note: The Amish have been capturing the imagination of Americans for decades, startling them with their utter rejection of the 'goods' of modern life.
The Russians have their own version of the Amish phenomenon in the face of the Old Believers, also called Edinovertsi (One-Faithers), who disdainfully turn down a sparkling, crude materialism in exchange for a strict, simple life.  
Old Believers are Russian Christians who did not accept the reforms of the Official Russian Church in the 1600s, Since then, they have maintained a strict, vividly separate culture and identity, settling in separate communities and farming the land. 
Old Believers usually have large families and dress traditionally; phones and washing machines are forbidden.  Children do not attend school and are taught to read religious books in Old Slavonic, an old, complex language used in Russian Church services.
Throughout the 20th century, religious persecution forced the Russian Old Believers to wander through countries and continents.Today, however, with the support of the Russian government, they have been slowly returning and settling in conservative communities throughout Russia. 
This is a series of mini-interviews with adherents talking about their lifestyle. This particular one explains how the Old Believers structure their families, and their adherence to a strictly conservative, unashamedly traditional, rules of family relations. 
---
The typical conversation on the patriarchal Russian family, by and large, begins with the Gospel and ends inevitably with The Domostroi.[1] The work of Sylvester, written in the long-ago sixteenth century, until now partially, and sometimes wholly has a place to serve as a guide to family life.
Of course, a full-fledged application of the rules of this monument of ancient Russian literature is extremely rare, often in the closed communities of the Old Believers, living far from civilization in rural areas.
In Edinovertsi families today you can find various situations of home structuring: Society invariably influences us all. Although patriarchy has persisted, certainly not every woman is just a homemaker, and can stand with her husband among the breadwinners; but such situations are the exception rather than the rule.
Trying to summarize the main principles of Edinovertsi families, we note such features as soundness, rigor, and responsibility in the approach to literally everything.
Spoiling children in such families is unacceptable; they are acclimated to prayer and labor from an early age.
In our pampered society, among Orthodox you can often find opposition to the methods of their ancestors in matters of rearing, as antiquated and even inhumane, to which Edinovertsi always unhesitatingly reply: Strictness in childhood helps to easily overcome challenges in adulthood. Additionally, such an approach more easily makes children true, independent helpers of their parents, allowing fathers and mothers to save energy, money, and time in solving family issues.
For example, I once saw how a three-year-old son helped his father do some repair work. This boy was well-versed in tools, not whiny, and was very quick to respond to his father's request for a hammer. I know of one case where a dinner prepared by their teenage daughter always awaits both working parents, and the apartment is always maintained in good order.
Edinovertsi believe that a child's energy needs to be channeled in a constructive direction from an early age, not corrupting the tender soul with excessive baby talk.
They look at boys and girls as men and women from birth, weaving gender-exclusive elements into their upbringing. Surviving Edinovertsi folk traditions (now available in many forms online) help with this. Thus, they can sing short lullabies to boys, which somewhat differ in content from those for girls.
The family is perceived as one whole, where the husband is the head, and the wife and children a part of the body, which must be taken care of. On serious family questions, the husband and wife, of course, take counsel with one another. There is no bawdy authoritarianism in the governance of the family on the part of the husband to speak of, as it was presented and successfully planted in the heads of the intelligentsia in the Soviet era.
Polite, respectful communication, soft speech, and striving to refrain from yelling in difficult moments are all important values for daily Edinovertsi life.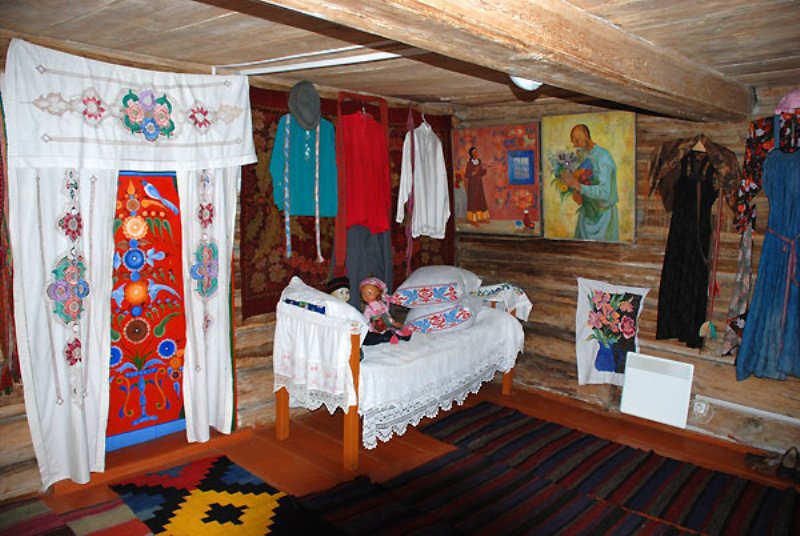 Inasmuch as worship occupies the central place in the life of a Edinovertsi family, morning and evening prayers, as a rule, become the most important family ritual. Prayer corners, and sometimes entire prayer rooms, are arranged quite carefully. Electric lighting is not used during prayer, but lamps and candles are lit.
Depending on the decision of the head of the family, passages from the morning and evening prayers (Midnight Office and Compline) can be distributed between the children to be read. In the evening, as a rule, there are soul-profiting readings from the Gospel and other spiritual books with incumbent interpretation and discussion.
It is important that meals in Edinovertsi families do not begin until the head of the family has come to the table. This seemingly very simple ritual forms a sense of understanding of family hierarchy in children.
Everyday clothes may differ from the folk clothing worn in church, but there is a clear tendency among young Edinovertsi families to wear the national dress at home, or to strive to maintain a specific style. Morning gowns, shorts, and crop tops will not be seen on the adult members of the family.
Children, of course, are also habituated to a certain style of dress: skirts for girls, pants for boys. Clothing itself is not sacralized in Edinovertsi families, but there is homage to tradition and the belief that the inner man will certainly be expressed in the external—after all, we are creatures of flesh and blood.
Edinovertsi strive to teach their children Church reading and handicrafts from an early age. Some are brought onto the kliros (church choir), some freely read the psalms already from the age of seven, some master iconography, and some help their mothers make lestovkas (the Old Believer version of the prayer rope).
Work is elevated to a cult, in a good sense; children are raised with diligence, which is a good tool in the struggle with the passions. A man who can work, according to the Edinovertsi, will be alright.
Edinovertsi strive to teach their children to take a blessing from their parents in all matters. In any case, the whole family is blessed by the father after a meal and before bed. The relationship of children with their parents is very close.
Here again it is necessary to dispel the myth about some petty tyranny in relations with children; everything is based on the principles of love, evangelical laws, communication, and involvement in the problems and interests of the children.
The order and cleanliness of Orthodox Old Believers' homes catch your eye. The families are very thrifty and prudent in their spending. A certain taste is always felt in their interior, with elements of folk culture.
Of course, the everyday life of the Edinovertsi is not just a copy of the lifestyle of Russian Christians of the seventeenth century.
However, valuable experience, regardless of historical age, remains valuable experience at any time, in our view. It is also worth noting that in the same seventeenth century, people's daily lives were immersed in the Church. This, of course, emphasizes a certain wholeness and integrity to their worldview, which certainly cannot be ignored.
Experience in structuring a family, raising children, and also of running a household, passed on from generation to generation in Edinoversti families will undoubtedly be valuable to all children of the Russian Orthodox Church.
When the world literally gangs up on faith in Christ and traditional values, it will be vitally important to have powerful protection, through which the enemy will not be able to inflict spiritual harm upon us.
The family is the foundation of the state. The traditional family is its reliable foundation.
---
For more great memes like
this one
, follow Global Orthodox News on Telegram:
https://t.me/globalorthodox