They adhere to tradition -- and trust the ancient rule of the Christian Church 
This article from our archives was first published on RI in October 2017
Editor's note. This is the 2nd article in our series called 'Here's Why" about the unusual things you may see in the Russian Orthodox Church in Russia. (Here's the first article )
---
When you walk into church, after you get over the shock of the beauty of the frescos or the singing (if there's a good choir) and the fact that everyone is standing, you will probably notice that all the women are wearing headscarves.
Most Christian denominations abandoned the age-old rule in the 1950-1960's as too old and cumbersome, and even the Greeks have abandoned the tradition in recent years.
Yet the Russian woman still staunchly whisks out her scarf and covers her head as she walks through the doors of a church.
Here's Fr. Dmitry Smirnov's opinion on the matter:
Though there really is no official church ruling obligating all women to cover their hair, it is nevertheless done in all Russian churches.
Most times, though, it isn't something women are forced to do; it's just a natural part of the traditional environment of the Church.
If some new girl with an uncovered head, usually, no one will say anything. They know, that with time, she will gradually start emulating the example of the women around her.
Sometimes, of course, a hawkish grandmother, with a strict eye for decency, will bring a headscarf. Or, better, a sweet church grandmother will say "Dear one, come with me, we'll get you into some Christian attire." 
There's always a basket in the back of the church with spare scarves.
But Why?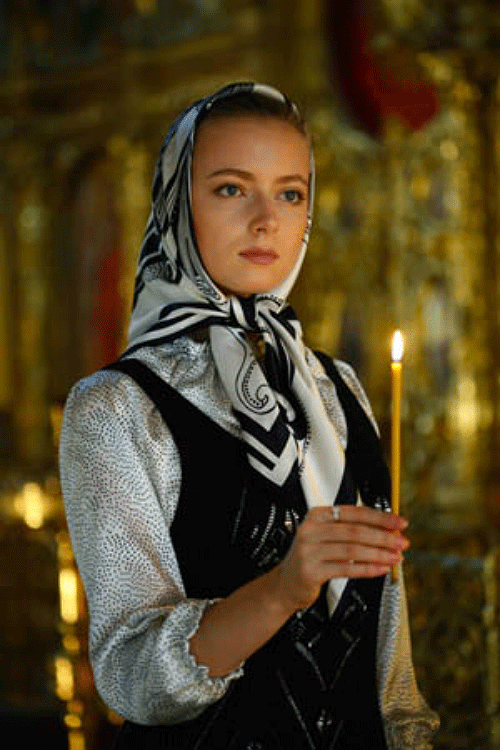 Adherence to Tradition. Russian women usually are not prone to hotly debating the topic, and simply respect the holy Traditions of the Russian Orthodox Church. They tend to trust that, if the Church has kept this rule for hundreds of years, it probably has worth and wisdom and will lead them in the 'right' direction. 
​​​​​​Humility. Head coverings are a visible, outward symbol of humility, a trait that Christianity teaches women to strive for in their personal and internal life.

​​​​​​Modesty. Another commonly stated reason is that the scarf helps women achieve the modest look that women should have in Church, in order not to distract others from praying. Obviously, the scarf isn't enough; it is just another important element of modest church dress.

Submission. Others will outright say that this is a sign of their acknowledgement of their husbands' leadership.
Those, though, who have been in church long enough, will just quote Apostle Paul ( Corinthians, 11:5)
every wife who prays or prophesies with her head uncovered dishonors her head