Russian women with conservative tastes in clothing now have a boutique of their own in the Russian capital: Baryshnya-Krestyanka is Moscow's first clothes store specializing in attire for Orthodox Christians
This article was first published on December 15, 2016
---
Russian women with conservative tastes in clothing now have a boutique of their own in the Russian capital: Baryshnya-Krestyanka is Moscow's first clothes store specializing in attire for Orthodox Christians.
Stores in Russia's capital selling Islamic clothing are no longer much of a surprise, given the number of people who dress according to the Islamic faith, which has strict rules about attire. But what about Orthodox Christianity?
"Orthodoxy does not have a strict guideline, but there are unspoken rules of etiquette that are followed by everyone who goes to church. The clothes must be modest, without embellishments, and knees and elbows must be covered.
The head must be covered with a headscarf," explains Yelena Tsokolova, one of the founders of the Baryshnya-Krestyanka chain of Orthodox clothing shops (the chain's name is taken from Pushkin's story of the same name – RBTH).
The store, which recently opened in the center of Moscow, is the first in the Russian capital devoted to the sale of Orthodox Christian clothes.
With this in mind, Tsokolova and Yevgenia Karuzina first thought of creating such a store in 2012. The young ladies went on maternity leave almost simultaneously and began looking for baptismal attire.
"It was difficult to find clothes for church. Everything was either too fancy or did not cover the elbows and knees," says Tsokolova. "So why we decided to create a collection for Orthodox ladies."
Today Baryshnya-Krestyanka stores can be found in Moscow, St. Petersburg and Yekaterinburg. The brand offers long dresses and skirts, as well as blouses and scarves. There are also wedding dresses for those seeking an alternative to wedding attire that is too revealing.
"Baryshnya-Krestyanka sews dresses from natural fabrics and takes seasons into consideration: In the winter it sells long woolen articles and in the summer – items made of lighter fabrics," says Tsokolova.
Who buys Orthodox clothes?
"Among our clients only 30-40 percent are churchgoers: priests' wives, church workers and Sunday school teachers. The rest are those who love vintage style, boho style and maxi lengths," says Tsokolova.
"There are many pregnant and lactating women interested in our attire since many of our dresses, thanks to the cuts, can be worn both during and after pregnancy," she says.
"I like the fact that Baryshnya-Krestyanka sews dresses in accordance with how an Orthodox woman should dress," says Yelena Demenko from St. Petersburg, a regular customer.
"I like that the dresses have underskirts. The quality of the material and the tailoring is very good. But if I didn't like the styles and the fabric, I wouldn't buy the clothes. Being an Orthodox brand alone is not enough reason to buy them," says Demenko.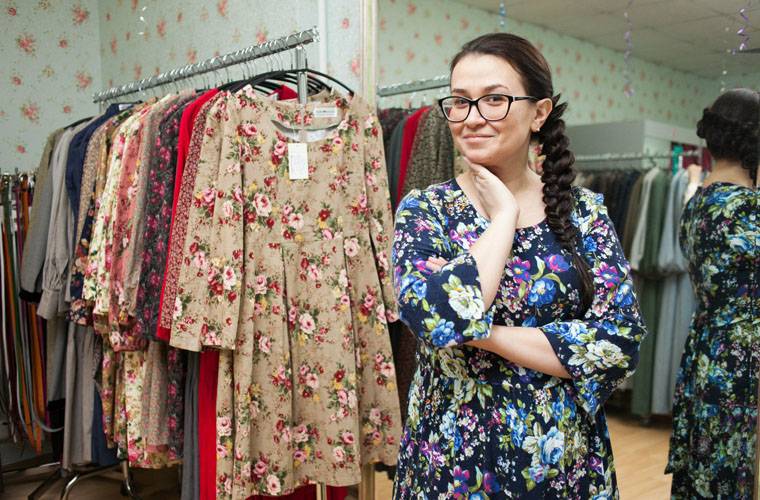 The brand's underskirts also captivated Irina Rossolimo from Moscow. "I had looked for them for two years. I tried explaining what I wanted to dressmakers at ateliers but each time came out disappointed. But at Baryshnya-Krestyanka my dream came true and I found several options for various seasons," says Rossolimo.
"It's not important for me that the store positions itself as an Orthodox brand. This is just publicity aimed at attracting people who are looking for church clothes. For me these are just dresses for life."
Is Orthodoxy in vogue?
"Among Orthodox women there are those who even when wearing proper church clothes try to look attractive. These clothes are precisely for them," explains Olga Sibiryova from the Sova Center for Information and Analysis, which studies religion in society.
"We cannot say that there is an increase in demand for these clothes just because Orthodoxy has a broad following. Remember that among the store's clients fewer than half come because it sells Orthodox attire," says Sibiryova.
"But it is possible that the chain's founders rely on Orthodoxy because people often associate Orthodoxy with environmental friendliness and natural materials. Therefore, Orthodox culture is most likely used for improving sales," she says.
For more, see our article on how Modest Dresses Are All the Rage in Russia
---
For more great memes like
this one
, follow Global Orthodox News on Telegram:
https://t.me/globalorthodox